CHAPTER I. CARDIGANSHIRE, WALES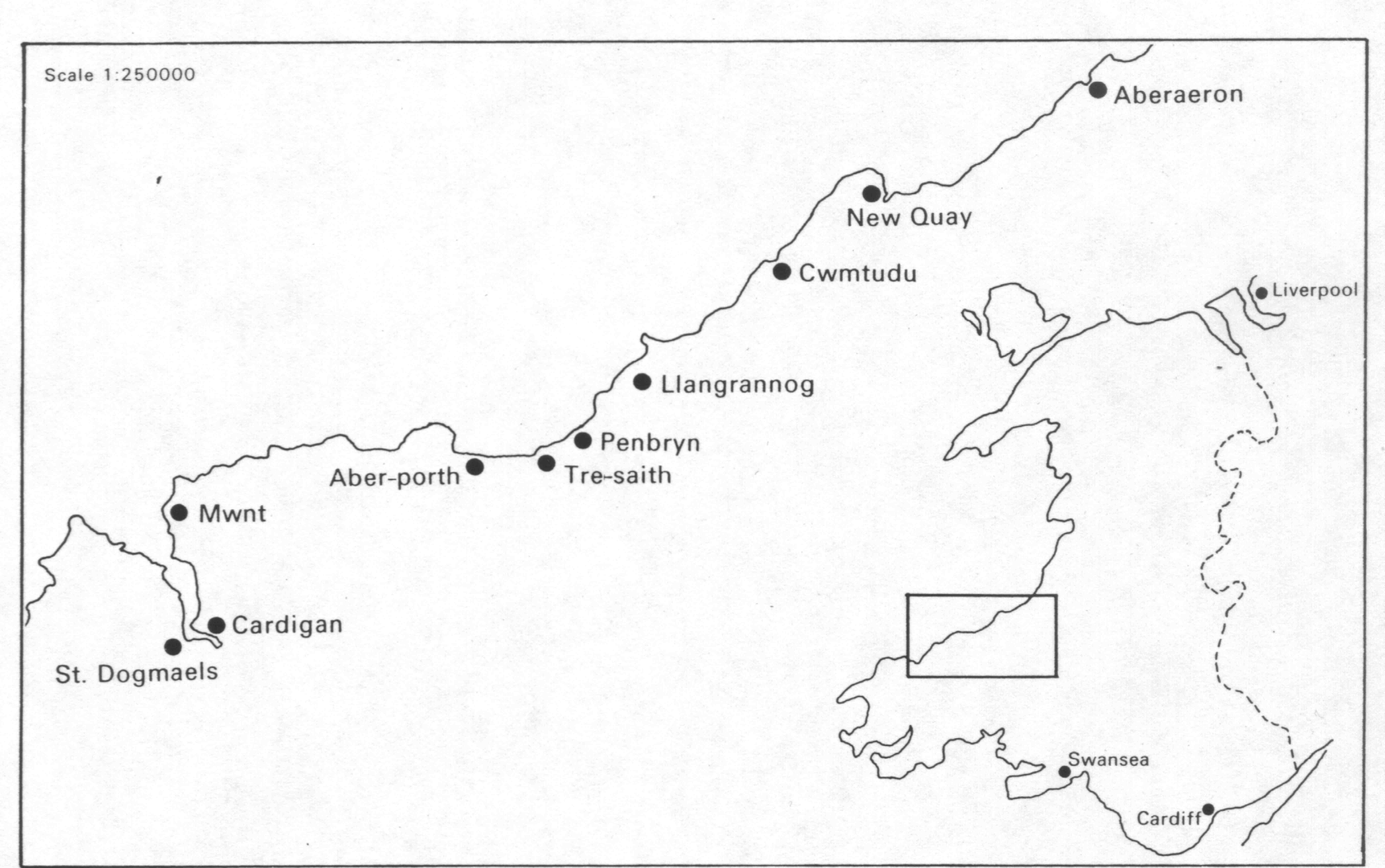 Map of Cardiganshire, Wales and surrounding area1
THE FAMILY


David Ellis was baptized the 6th of October 18292 This may seem like a mundane beginning to this story, however, it will prove to be one of the more interesting tidbits of facts discovered. David's parents were Evan and Hannah Ellis. The family abode was named Bongam. Dwellings didn't have numbers; they were given names. Somehow, this lends an air of intimacy, as if the dwelling was a family member. Bongam means bandy-legged or bow-legged in Welsh. One can have fun imagining all the scenarios where the name might have come from. In letters from David's sister Ellen, the address is given as Bongam Bach.3 Bach can be either a noun meaning - hook, hinge, nook, corner, bend or an adjective meaning small or dear. Hannah would live at this residence for over 50 years.

Evan was listed as a mariner. It is doubtful that he was the first mariner in the Ellis line as that was the primary occupation in this part of Wales. He certainly was not the last. Each of the next three generations produced at least one sailor.


David's parents, Evan Ellis and Hannah Davies, were married at the parish church in Mwnt, Cardigan, Wales on the 6th of March 1824.4 Hannah was born in Mwnt, which the English spell Mount. It is a small village along the Cardigan Bay between Cardigan and Aberporth. On 26 September 1824 their daughter Mary was baptized there. 5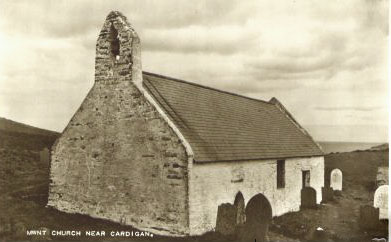 Mwnt Parish Church


Now we get into one of the more interesting aspects of Welsh research – patronymic naming patterns. When a couple had a child, the father's given name became the child's surname. As an example, Rees, son of Evan Davies, would be named Rees Evans. Rees' son, Thomas, would be Thomas Rees. Beginning in the 1800s people started using a fixed surname. However, they might be selective about when they used it. Rees in the above example might have been named Evans on his baptism, but by the time of his marriage, he might be using Davies. The baptism records of his children might have Evans, Davies or even Rees as a surname. The family may have settled on a fixed last name, but the parish priest might record it in the patronymic format. Sometimes the patronymic name becomes a middle name.


All of which brings us to the identities of David's other siblings.

Child's
Christian Name
When Baptized

Parents' Names


Christian - Surname
Abode
Quality, Trade
or Profession
Thomas6
30 July 1826
Evan - - - Thomas
Hannah
Bongam
Mariner
James7
5 May 1834

James died 3
weeks later

Evan - - - Davies
Hannah
Bongam
Mariner
John8
3 October 1837
Evan - - - Owens
Hannah
Bongam
Master Mariner

There was a daughter named Ellen or Elinor, whose baptism record has not been found. However, she was listed in subsequent census records and letters from her to David's children signed Ellen Ellis still exist. In one letter she states "You can guess my age as I was next to your dear father."9 In the 1841 census she was listed as being 9.10 She was probably born in 1831 or 1832.


Although the baptism records indicate different surnames, I feel comfortable listing them as children of Evan and Hannah Ellis. The 1841 census shows Mary, Elinor and John as living with Hannah. They all have the last name of Ellis.11 David is living nearby, working as a servant. His age was listed as 10, which means he was born in 1830. Ages, as listed in census records, are to be taken as approximate ages. This would be the first of many questions as to the year of David's birth. There are letters from Ellen in which she speaks about Mary, Thomas and John. Thomas will also appear shortly in our chronicle.
ABERPORTH
In 1833, Aberporth was described as

"ABERPORTH (ABER-PORTH), a parish in the lower division of the hundred of TROEDYRAUR, county of CARDIGAN, SOUTH WALES, 5 1/2 miles (N. E.) from Cardigan, containing 485 inhabitants. This parish is pleasantly situated on the shore of Cardigan bay, St. George's channel, and in a small cove near the mouth of the river Howny, forming a commodious, though small port, which is a creek to the port of Cardigan."12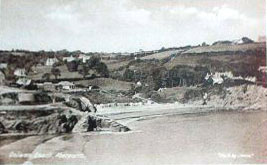 Aberporth Bay



Aberporth developed as an outward-looking seafaring village. For generations, families have seen their husbands, fathers and sons sail off, at first as coastal sailors fishing the huge schools of herring, or transporting salt, limestone and coal, and later generations perhaps sailing the larger ocean vessels. This becomes very obvious when looking at the census records. There are very few males over the age of 14 listed.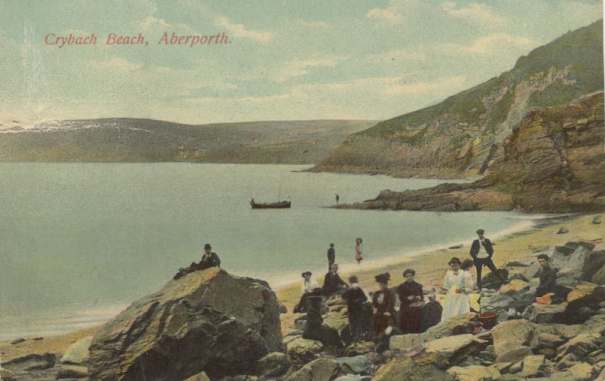 Aberporth doesn't actually have a port. Because of the gentle shelving in the beach, the ships would come in on the low tide, the crew would call out to the local porters who would come quickly and help to unload. Then the ship would sail out on the high tide.


The diet of South Wales consisted of a gruel made out of oatmeal. This would be supplemented with salt-cured fish, bacon and a few root vegetables.


There seems to be some discrepancy concerning the extent of education. An extract from The Reports of the Commissioners appointed to enquire into the state of Education in Wales 1847 reads:



"ABERPORTH
On December 21st I visited the above place, with the intention of examining the school there. . . . They read to me the 4th chapter of Isaiah, which they all, except one, did in a most unintelligible manner; false pronunciations were constantly made in almost every verse. . . . I gave them some words to spell, and asked them the meaning of some of them, in which they got on very badly; e.g. apparel, reproach, comely, believe, grief, judgment, assemblies, they could neither spell, nor give the meaning of."13


Despite this observation, Hannah, David and Ellen exhibit fine penmanship and spelling in the extant examples in the author's possession. They demonstrate a thorough grasp of the English language, grammar and syntax in use at that time.

Reading Ellen's letters, one can visualize Bongam and the small village of Aberporth.

May 14, 1897
I have finished the garden, the apple trees are full of blooms and the gooseberries bushes full of fruit, the weather is very cold at present hope to have warm weather soon."14
"16 Oct 1901
I live in out of a way place only in the summer the place is full of visitors from London and parts of England." 15
"Aberporth is very lovely at present in the summer months. It is very lively lots of English people are visiting the place in the summer from London & elsewhere. It is a very healthy place. I live in a cottage about 5 minutes walk to the village."16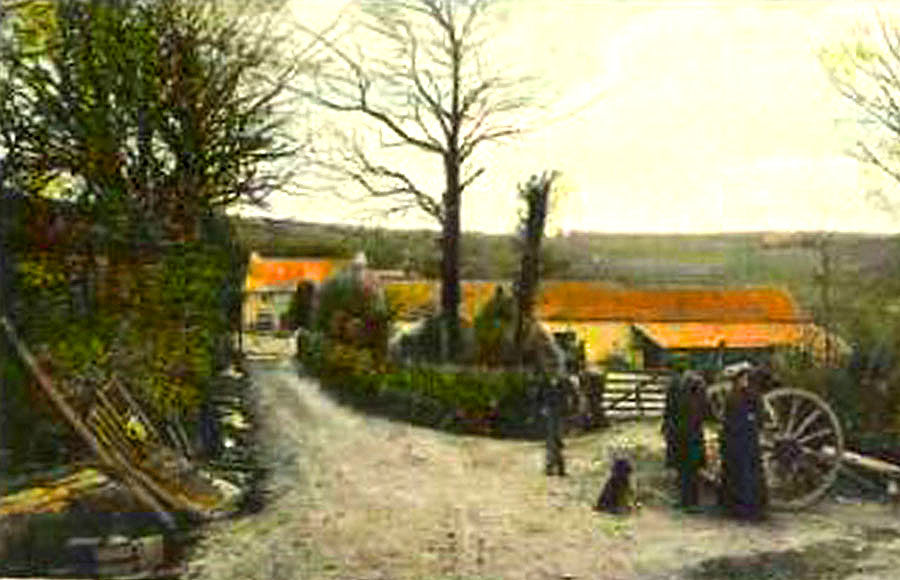 Aberporth 1900
FIRST WENT TO SEA



Life at sea offered many opportunities for a young man in the 19th century. There are indications that the larger vessels would employ a teacher or a minister to educate the young boys, although to what extent is not clear.

"The image of 'the jolly sailor conforming to a stereotype that the bulk of society expected of him' was not always true of the mariners of Southern Ceredigion. Many of them were deeply religious men and bible classes, hymn singing practices and prayer meetings were held on board locally manned ships the world over." 17


"Capt. Stanley Owen of Penbryn (1821 – 1897) during his seafaring career held a Sunday School on board his ships every Sunday and since the crews were largely Welsh, he gave them prizes at the end of each voyage for learning hymns and verses. I saw one of his account books and I was very surprised by the number of chapters and hymns that were learnt by the sailors." 18

In 1835 the Merchant Seaman's Act was passed in England. This required that the master of a vessel complete and submit a crew's list. The original intent was to develop a database of all able seamen so that in the event of military action, specific groups could be pressed into the Royal Navy. Each seaman was issued a register ticket. What it means today is that researchers have access to detailed records about English mariners from the 19th century.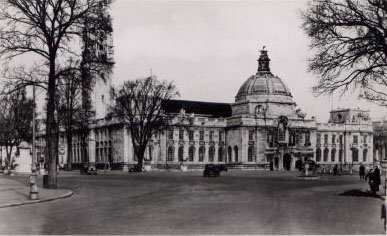 Cardiff City Hall

David's ticket was issued at Cardiff, 14th May 1846.19 It shows that he was born in Aberporth in September 1830. This is a discrepancy with his baptism record, but does agree with the 1841 census. It would not be uncommon for someone to only know an approximate year of his or her birth. At that age, he was 5' 3" tall with black hair, hazel eyes and a dark complexion. He first went to sea in the capacity of "boy." When unemployed, he resided in Aberporth.


Thomas Ellis received his ticket in Liverpool on 6th February 1845. It shows that he was born in Aberporth in 1826. He first went to sea in 1840, which explains why he wasn't listed in the 1841 census. He was 5" 9" tall, brown hair and eyes, ruddy complexion and had a cut on his forehead.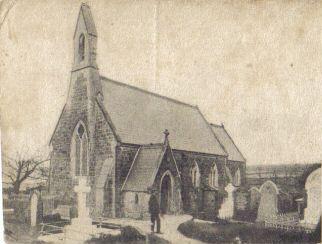 Aberporth Parish Church

The Monumental Inscriptions for Hannah includes reference to Thomas' son. It reads

"David Owen Ellis, eldest son of Captain Thomas Ellis late of Tymawr, by Mary his wife, d.25 Mar 1862 (2 yr 5 mth) Hannah Ellis o'r Bongam, m. 27 Tach 1887 (85)"20

From this, I conclude that the Thomas Thomas listed as Evan and Hannah's first son was this same Thomas Ellis. His son and his mother share a monumental inscription in the Aberporth parish church. We also see the name Owen used again.

In 1846 David was a seaman on a Cardiff registered coaster during the first six months of the year. During 1847 he sailed on a Newport registered vessel from the same port, on or about 16th August bound for overseas, returning to London around 2nd December. He then shipped on the same vessel, sailing from Newport just after Christmas returning to Cork, Ireland around 30th May 1848.21 At that point he seems to disappear from the British registry system.
---

1Jenkins, J. Geraint. Maritime Heritage, The Ships and Seamen of Southern Ceredigion (Gomer Press, 1982), 2.
2Bishop's transcripts, 1674-1871. Church of Wales, Parish Church of Aber-porth: microfilm no. 105126, Family History Library, Salt Lake City, Utah
3Letter from Ellen Ellis, Bongam Bach, Aberporth, Cardigan, to "My Darling Neices" dated Nov. 14, 1893. Second letter from Ellen Ellis, Bongam Bach, Aberporth, to "My Dear Nieces & Nephews" dated March 2, 1897; held by Flora Ellis niece of Ellen Ellis, now in possession of Susan Ellis Berghan
4E. R. Heaton, e-mail message from heaton@celtic.co.uk Cardiganshire Family History Society, Trebrysg, Tregaron, Ceredigion, SY25 6HL, U.K. to author 24 February, 2003
5Bishop's Transcripts, 1676-1875 Church in Wales. Parish Church of Mount, microfilm no. 105191, Family History Center, Salt Lake City, Utah
6Bishop's transcripts, 1674-1871 Church of Wales, Parish Church of Aber-porth: microfilm no. 105126, Family History Library, Salt Lake City, Utah
7ibid
8ibid
9Letter from Ellen Ellis, Bongam, Aberporth, Cardigan, to "My Dear Neice" 14 May 1897; held by Flora Ellis niece of Ellen Ellis, 1994 in possession of Susan Ellis Berghan
10Census Returns for Aber-porth, 1841, Great Britain Census Office, microfilm 464305, Family History Center, Salt Lake Center, Utah
11ibid
12Lewis, Samuel. A Topographical Dictionary of Wales. 1st ed 1833
13GENUKI , Aber-porth, Schools, online
< http://www.genuki.org.uk/big/wal/CGN/Aber-porth/Education.html> accessed 10 May 2003
14Letter, Ellen Ellis to "My Dear Neice" May 14, 1897
15Letter from Ellen Ellis, Bongam, Aberporth, Cardigan to "My Dearest Neice"; held by Flora Ellis niece of Ellen Ellis, 1994 in possession of Susan Ellis Berghan
16Letter from Ellen Ellis, Bongam, Aberporth, Cardigan, South Wales, no date, to "My Dear Neice," held by Flora Ellis niece of Ellen Ellis, 1994 in possession of Susan Ellis Berghan
17Jenkins. op. cit. 154
18ibid. page 156
19The National Archives of the UK (TNA): Public Record Office (PRO) BT 113/110 – Register of Seamen's Tickets
20E. R. Heaton, e-mail message from heaton@celtic.co.uk Cardiganshire Family History Society, Trebrysg, Tregaron, Ceredigion, SY25 6HL, U.K. to author 24 February, 2003
21The National Archives of the UK (TNA): Public Record Office (PRO) BT 113/110 – Register of Seamen's Tickets
---
Back to Table of Contents
Continue
Home